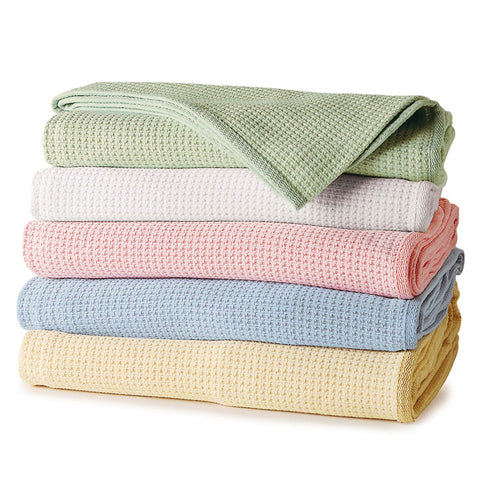 Queen Blanket: 90"X90"
King Blanket: 108"X108"

Learn More
A perennial favorite for snuggling down at night in all weathers, our genuine, 100% cotton Egyptian blankets are perfect for any scenario or situation.
When it comes to cotton bed sheets, the Egyptians have been getting it right for thousands of years, so why change things when you can experience near perfect texture and warmth for any temperature?
If you have never experienced cotton blankets like these before, you are in for a treat. Created from 100% softly-woven Egyptian cotton, our sheets are incredibly soft to the touch, luxurious, and need to be felt to be believed.
They are durable and sturdy, too, and with a little care and attention should last you a lifetime. These blankets are renowned for washing well, and you will experience barely any wrinkling at all.
The breathable cotton blankets will keep you snug in the winter, cool in the warmer months, and even help you wick away sweat during those incredibly hot summer nights. Forget about tossing and turning in discomfort due to low - or high - temperatures, Just use a single sheet in the warmer climate and layer up when the fall comes in and throughout winter.
We have blankets available in a wide array of classic colors, including cream, light blue, and sage, and the blankets are also available in King or Queen sizes. Don't settle for less, and instead, start getting a better night's sleep by enjoying superlative comfort and luxury with our softly woven Egyptian Yarns.
Hello, want 20% OFF?
The best sleep of your life awaits you
Great!
Simply confirm your email to claim your 20% off NOW
Congrats!
Here is your coupon, use it at checkout: WELCOME20