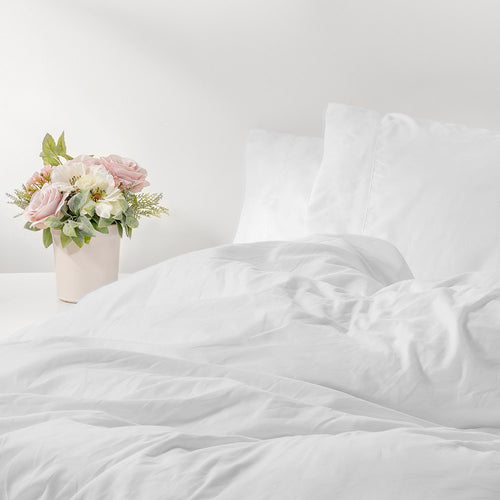 Queen Duvet Cover (90" X 90")
King Duvet Cover (104" X 90")
Learn More
Guard against wearing out your current comforter by choosing this high quality 1800 thread count duvet cover. You'll receive an ultra-soft duvet cover in your choice of either Queen or King sizes that will enhance your current bedding set for the ultimate night of restful sleep.
Our duvet cover is ultimately constructed with an 1800 thread count to provide the best in durability and strength. Thousands of ultra-plush threads are tightly woven to create a strong and secure barrier between you and your favorite comforter. This specially designed construction will guard against stains and damage to itself as well as the comforter located inside the duvet cover.
The duvet cover will easily slip over various sizes of comforters and will add comfort and strength for a satisfying night of sleep. The hypoallergenic fabric will also guard against dust mites and indoor allergens that can cause irritation and health concerns for many sleepers.
This Duvet Cover will arrive in a convenient pouch making it the ultimate gift. It also stores well as it is protected from dust and dirt. Consider adding it to your luggage while going on a trip to provide ultimate safety and comfort on a night away from home.
Made of highly durable,

100% Polyester Microfiber

Stays soft even after multiple washes
Repels dust mites and other indoor allergens
Resists shrinking, wrinkling, stains, fading, and pilling
Easily machine washable in cold water; tumble dry low
Designed & Packaged in California, Manufactured and Imported from China
Hello, want 20% OFF?
The best sleep of your life awaits you
Great!
Simply confirm your email to claim your 20% off NOW
Congrats!
Here is your coupon, use it at checkout: WELCOME20