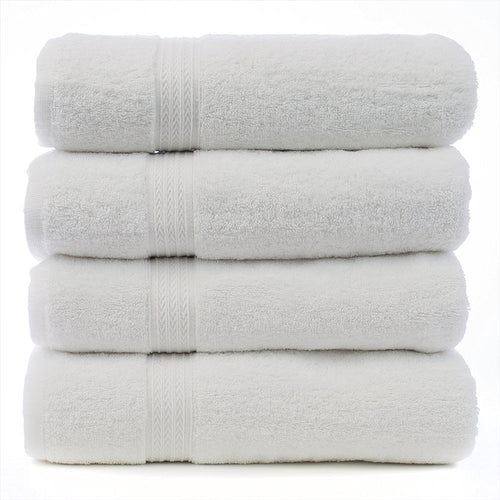 Price includes 1 Towel
This item has no returns due to being a department store clearance item
- 100% Cotton Dobby Border Terry Bath Towels
- 27x56in Dimensions - Ring-Spun Yarns
- Luxury softness and superior durability and absorbency.
- Hemmed edges and precise finishing for luxuriousness.
- Double needle stitching for added strength.
- Wellington Bath Towel Weight - 17 lbs./dozen
Learn More
One of the nicest things about visiting a hotel is the super soft towels that you enjoy: they're fresh, attractive, and gorgeous to the touch. And let's be honest - deep down we all wish we could have similar high-quality towels at home.
Well, the good news is that, now, you can - with our 100% cotton hospitality towels. Featuring hemmed edges and an attractive border, the classic Wellington bath towel has never been in better shape in the looks department, and it feels incredibly soft to the touch.
These 100% cotton towels feature a ring-spun yarn, which gives you exceptional absorbency and luxurious softness. These high-quality towels will help you dry yourself in super quick time, while the soft, luxury finish will treat your skin with the gentle respect it deserves.
Use them as hospitality bath towels - or grab some for your personal use - and all for a price that screams exceptional value.
Not only do they feel soft on the skin, but our Wellington towels are incredibly durable, too. Created with precise, double needle stitching for added strength to endure the toughest of industrial washes, as well as a superb finish, this is a towel that will keep you in the highest of comforts for many years to come.  
Hello, want 20% OFF?
The best sleep of your life awaits you
Great!
Simply confirm your email to claim your 20% off NOW
Congrats!
Here is your coupon, use it at checkout: WELCOME20